For those unfamiliar with her story, here's a link to her early days and the following entries outline her early fight for life...
http://furrymob.livejournal.com/16039.html
Here's a link to her first experience of this illness when I very nearly lost both her and Inga. The story of their second fight for life starts here:
http://furrymob.livejournal.com/59111.html
I think her and Inga's earlier experiences will show why my girls are so special to me.
Although both of my girls made a good recovery, Una has always been smaller and more delicate. She's also by far the prettiest, loves to pose for the camera hence her career as a bunny supermodel.
Today she's brighter and I think she's feeling better but her diarrhoea is still a major problem. She nibbled at some mix last night then some dried dandelion in the night but relies on mum for syringe-feeding and subcutaneous rehydration. This morning mum went hunter-gathering to try to find something to tempt her - blackberry leaves, lavender, soft grass, coarse grass, dandelions and dandelion leaves... Mum would prefer to her to eat hay, dry pellets, mix or herbs but she won't so there's not a lot mum can do about this other than to keep syringing her in the hope that soon she might want to eat by herself. Some of the treats mum found were well-received and Una enjoyed tucking into the fresh dandelions and a few leaves. She looked in disgust at the nettles but tried a blackberry leaf before deciding she didn't like it.
She looks better in the pics than she really is but there is some progress. Her emaciated body is now in better shape and the diarrhoea is reducing but mum fears that while the wet green diet will give her some much-needed fluid, it may trigger more diarrhoea but at this stage, there's not really much to lose. There is also a strong risk that her illness will have caused damage to her intestines making it impossible for her to absorb nutrients from her diet giving a poor prognosis.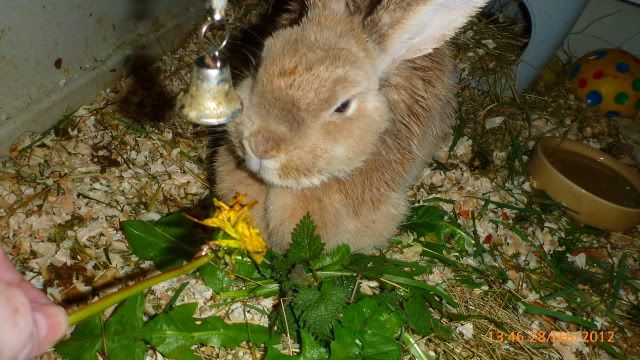 Una's not drinking but relying on syringe-feeds for fluid but is now resisting these so increasing amounts are being given subcutaneously to compensate and keep her well-hydrated.
Some of my Una's supplies:
Here's a video of one hydration session giving 20 and 15ml, followed by a nose-rub:
Lots of 2-foots have been following Una's illness and not just our bunny community but also followers in Canada, USA, New Zealand, Scandinavia and a few other countries and they're all asking how she is. Thank you all for your interest in my daughter. I didn't know so many 2-foots around the world read my journal!